About Us
Donald Lareau, D.D.S., M.S.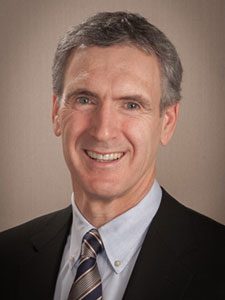 Dr. Lareau is honored to have joined Twin Cities Periodontics. He brings years of experience and expertise to this caring group of doctors and great staff who share his love for dentistry and especially our specialty of Periodontics. Dr. Lareau strives to provide an exceptional experience and results for each person. Listening to patient's concerns and understanding their goals is very important. Time is taken to discuss findings and treatment choices in order to assist them with selecting what's best for them. Once a plan is established and coordinated with the patient's dentist(s), care is taken to provide treatment in a meticulous manner to restore optimal health, function and beauty. Helping people in this way is very rewarding not only to him but also the dentists he works with and, most importantly, his patients.
"In my years of practice, I've learned that there are many, many factors critical to providing a great experience and beautiful treatment outcomes for our patients. Their feeling heard, understood and cared about is at the top of the list. I really enjoy the interactive process that leads to this."
EDUCATION, RESEARCH & TEACHING
Dr. Lareau attended Kansas State University in Manhattan, KS on a football scholarship where he received his Bachelor of Science Degree in 1974.  Following his senior year, he was selected First Team Academic All-Big Eight and First Team Academic All-American by the College Sports Information Directors of America.  He then attended The University of Missouri at Kansas City School of Dentistry, graduating with Distinction in 1979.  Following dental school, Dr. Lareau moved to Minneapolis for a one-year General Practice Residency, with an emphasis on prosthetic care, at the Minneapolis Veterans Administration Medical Center prior to his residency in periodontics at the University of Minnesota School of Dentistry.  He completed his Master of Science Degree in 1983 and received second place honors at the Annual American Academy of Periodontics Balint Orban Memorial Competition for research in periodontics by graduate students.  Dr. Lareau has been in full time private practice, recently leaving Centennial Lakes Medical Center in Edina to join Twin Cities Periodontics.  He has a number of professional publications, enjoys teaching part-time in the graduate periodontal program as well as periodically presenting to the graduate students in dental specialty programs and to other organizations as well.  He is passionate about his profession and continual learning, participates in a number of local study groups including leading a Spear Study Club for the past 8 years. 
ADVANCED TRAINING & SKILLS
Dr. Lareau's interests in dentistry are broad.  He has trained with many of the leading educators and educational organizations in dentistry including Spear Education, The Pikos Institute, The Misch Implant Institute, gIDE Dental, Seattle Study Club and others.  He continues expanding his knowledge and skills development for serving patients and their dentists.  He is unconditionally committed to excellence in all that he does.
His areas of expertise include:
Comprehensive evaluation to assist in directing care between offices
Bite and TMJ analysis and treatments
Periodontal therapies to:

Accurately diagnosis gum disease and contributing factors
Restore and maintain gum and bone health
Correct gum recession and deficiencies in gum tissue height
Enhance the esthetics of teeth and smiles
Long term maintenance of oral health

Bone maintenance and augmentation

Multiple methods are available to select from

Tooth replacement with dental implants with a special emphasis on achieving cosmetically pleasing results
MEMBERSHIPS & POSITIONS
Professional Affiliations – National
American Dental Association (ADA)
American Academy of Periodontology (AAP)
Spear Education

Professional Affiliations – State
Minneapolis District Dental Society (MDDS)
Minnesota Dental Association (MDA)
Minnesota Association of Periodontists (MAP)

Study Clubs
Lareau Spear Study Club
Northern Lights Dental Forum-Seattle Study Club
Twin Cities Periodontics Study Club
Twin Cities Periodontics Spear Study Club
Minnesota Academy of Cosmetic Dentistry
21st Century Study Club
PERSONAL
Dr. Lareau and his wife, Sally (who is also a University of Minnesota graduate), have 2 daughters, 4 grandchildren and another "on the way".  He enjoys time with Sally and their family and has many hobbies including photography, cycling, cross-country skiing, canoeing/kayaking, backpacking/hiking and, particularly, fly fishing.